Manifolds for sanitary installations with adjustment screw
Our manifolds for sanitary installations are made to give plenty of channels for fluid to pass through, resulting in reduced pressure drops.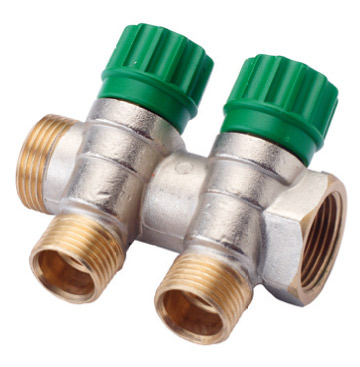 In the gnali bocia catalogue you can find a wide range of manifolds for sanitary installations equipped with regulating valve. The manifolds are available in the version with 40 mm between the axes and the more compact version with 35 mm between the axes.
These manifolds for sanitary installations were designed and produced in our factory to minimise pressure drops and maximise the fluid passage channels. This was obtained by offsetting and sloping the tap screw in a suitable manner. The tap screw adjusts and closes the side offshoot.
The screw has a flat gasket made of EPDM, which guarantees long life, even at high temperatures.
The body of the manifolds for sanitary installations is made from unwrought brass that is hot-forged and heat treated to guarantee long-lasting duration against stress corrosion cracking, a common characteristic of these metals. The outside is covered in nickel, to ensure that the product resists external corrosive agents, while remaining pleasant to look at over time.
---
06/07/2017
I contenuti di questo sito non hanno carattere di periodicità e non rappresentano 'prodotto editoriale'.